How To Dress For A Festival: Fashion Rules To Go To Shows
With the arrival of spring and summer, open-air parties and other celebrations begin. We want to tell you how to dress for a festival. These are some fashionable rules to go to shows that you should take into account in the coming months.
Fashion rules to go to shows
Coordinating your clothes for a music festival is not that complicated. But we always want to look good, fashionable, and this can lead us to cross the line between fashion and the vulgar or ugly.
Keep your own sense of style. Remember that it is a concert, it is not Halloween so you should not dress as if you were disguising yourself. Take your personal style and combine it a little with something bohemian or rocky, even something sixties.
Find a real vintage style. Everyone wants to go to a music festival wearing the most rockers possible. The classic look is jeans shorts, rock band shirt, leather jacket, and sneakers. But, do not wear a t-shirt from a newly purchased classic band, prefer to look for real vintage clothes in stores in your area.
Do not forget the coat. We already know that the winter passed, but there will not always be sun and heat, at night the temperature will go down and you will feel cold, so it is best to bring something to cover yourself with. You can tie a jacket around your waist, either leather, jean or military type.
Less is more. This rule applies at all times in fashion. Do not carry too many pieces and especially do not combine many textures.
Elements to highlight
Choose a piece that stands out. You will not look bad if you look for a bohemian or rock style at a festival, well if you do it badly or exaggerate you will not look like you expect. When choosing a style, if you go further you will be forced, so it is best to opt for a piece of this expression and combine it with other basic ones. That way you'll look good and stand out. You can use some gladiator sandals with shorts, shirt, and jacket, the bohemian will be in the shoes.
Buy something that stands out. In the festival season you can show yourself, so buy something distinctive that captures looks. Wear boots, a jacket, a vest or a leather or suede wallet, you will add texture to the look. But do not exaggerate, always be careful with the pieces. It does not have to be leather, a metal necklace will also be distinguished, or a wallet with diamonds.
Pieces that you should not use
Do not wear a bathing suit. Unless there is a pool there is no reason for you to be in a bikini at a festival. It's not something that looks good unless you're really going to a party on the beach or the pool. If you want to wear small clothes on the top choose a cut shirt or a crop-top.
Forget the flip-flops. Flip-flops are also for the beach or the pool. On a holiday there will be grass, dirt and, if it rains, mud. So it's best to use more closed shoes. Apart you will spend a lot of time standing and these sandals are not the most comfortable. The most recommended footwear are ankle boots, dancers, and sandals that cover something foot.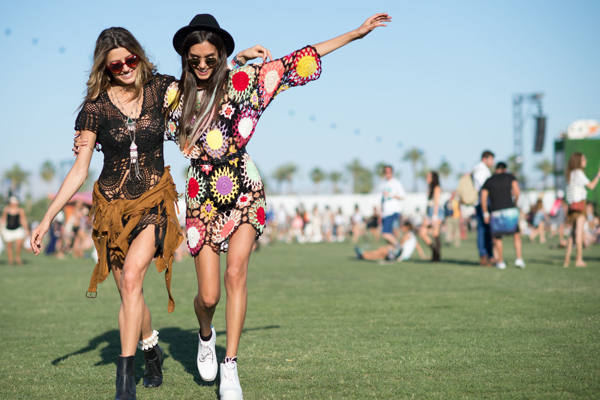 How to dress for a festival
When dressing for a festival, you often ignore that there is a style or something that looks good in this type of event. With these tips, you can see yourself very well and according to the occasion.
Dress up layers, take care of the weather
Layers will be your best friends at a festival. Pack enough t-shirts and cardigans or jerseys to match. In the end, you can put them on your neck like a light scarf, on the shoulders or around the waist. You can even put them on your head to cover your hair.
The idea is to be prepared for changes in temperature at night.
Do not forget to bring a light jacket for the rain. Many forget to wear this, but a pullover will be comfortable and you can put it on top of any sweater, denim jacket or leather jacket.
There are very thin rain jackets, ideal for summer, that fit in a small bag and in your wallet. So you will not have to worry about the weight of this. Also, it's good, because even if it's not raining, you'll always have something clean and dry to wear.
Choose the right shoes
As the festivals are in spring and summer, there is probably a lot of heat and the first shoes that come to mind are flip flops and flat sandals. But, as we said, it is not the most recommended footwear.
In some festivals you will have to walk from one stage to another, you will spend a lot of time standing, you will have to go to a bathroom that many people use, so flat sandals are not the best option. The most practical thing would be to use skate shoes, converse, athletic shoes in general or booties.
Bet on a fanny pack
The fanny packs have returned. This accessory of the nineties has returned to the catwalks of haute couture. Maybe many reject them because it makes them look tourist. But, in reality, they are very practical.
They will allow you to have your hands free and all your things safe. In a festival, you will have drinks in your hand, food or you will simply want to clap or move your hands in the air. The best thing is that you will have all your things in view, unlike a backpack, which will be exposed to pickpockets.
If you do not like fanny packs then the next option would be a cross bag. But choose one that is compact, like the Superdry Delwen bag that has a zipper.
Do not wear expensive clothes
Maybe you'll be tempted to use your best pieces to go to a festival. But you do not have to dress in designer clothes or too expensive to look good. A concert is not the best place for your precious clothes, you could dirty them, stain them.
Maybe you'll even think twice before sitting on the floor, so you can not enjoy yourself well. Prefer simple, basic clothes and do not be afraid to do anything with these.
Trust the leggins
The bare legs are the look of the festivals. Even if there is a forecast of rain or low temperatures. That's when leggings or pantyhose become your best friend.
They are easy to wash, dry fast, do not take up space and will help keep you warm. Wear opaque shades under shorts or summer dresses on colder days.
If it is hot during the day, but cold at night, keep the pantyhose in your bag and put them on when you cool down. Immediately you will have a warmer look.
Dress for a festival after 30
We associate festivals with youth, with those that do not exceed 30 years. But, there is no age limit, nowadays anyone goes to a concert and enjoys. The detail is that you know how to dress according to your age and the occasion not to awaken unwanted looks.
White dress, jacket that stands out (striking color or decorated) and brown boots.
Skirt high waist or wide pants, crop top and sandals.
Cowboy cloth shorts, rock band shirt, leather jacket and ankle boots.
If you want to wear something more glamorous choose a metallic dress with something casual like rain boots. Complete with a denim jacket.
Wear a button-down shirt over a crop top, shorts, and sandals.
Long cotton dress in a neutral tone, with boots and funky accessories like a hat.
As you have seen so far, there are certain rules, but it is not something strict but certain guides that you must meet to see yourself well in a festival.
How men should dress for a festival
Men could not be left out of these tips and that is why we will mention some basic pieces.
Accessories for men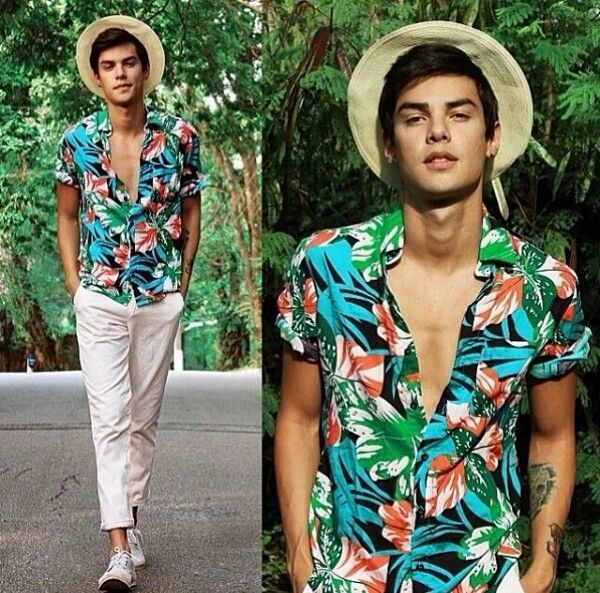 Mirror glasses: they are the brightest choice in terms of sunglasses. There are different styles, shapes, and brands. The most popular are those of aviator, but you will find many more options, choose depending on the shape of your face.
Hat: like the previous item, not only is it fashion, but they are practicing this season. They are focal points in the outfits. If you like simplicity opt for a denim hat, but there are also more colorful options that look great. The fedoras are very fashionable and they look very masculine in neutral tones.
Backpack: this is necessary at festivals, you will want a light and with enough space. Opt for classic shades that can be combined with different pieces of clothing.
Clothes for men
Shirt with patterns: decorate them with light fabrics and with colorful and graphic decorations.
Shoes: do not think only about comfort, look to give some style to your feet. Today the white sneakers are a basic, but they can get very dirty. The boots are an excellent option, rustic in brown or black; They go very well with bohemian looks.
The most popular patterns this season are floral but choose ones that look, adults, avoid the childish or very feminine.
Denim: the pieces of this fabric cannot miss in your look for festivals. It prefers a medium blue tone, although the light wash also goes well with everything. The black denim goes very well with white or bright colors.
T-shirt: no festival look looks bad with a classic men's shirt, prefer shades like white, gray or black. Complete with accessories such as necklaces and bracelets. If you want to dare a little more, opt for the t-shirts with phrases or logos of your favorite bands.
Knowing how to dress for a festival and follow the fashion rules to go to shows will allow you to enjoy these days with comfort and look good. Since always the festivals are synonymous with good music and style, you will not want to be out of tune.
Please follow and like us: